Restaurant in Längenfeld for Connoisseurs
Heavenly pleasures at Hotel Alpenblick
Near and far are much more than mere opposites. The restaurant in Huben near Längenfeld in the Hotel Alpenblick blends local flavours with tastes from all over the world. We serve up popular Tyrolean dishes and Austrian specialities alongsidecreative compositions and culinary delights from far-away lands.
In summer, guests can order cooked meals from our kitchen from 11.30 – 21.00, and in winter we serve lunch at Hotel Alpenblick. In the evenings, hotel guests are catered for with several-course multiple-choice meals (in summer 4 courses and in winter 5).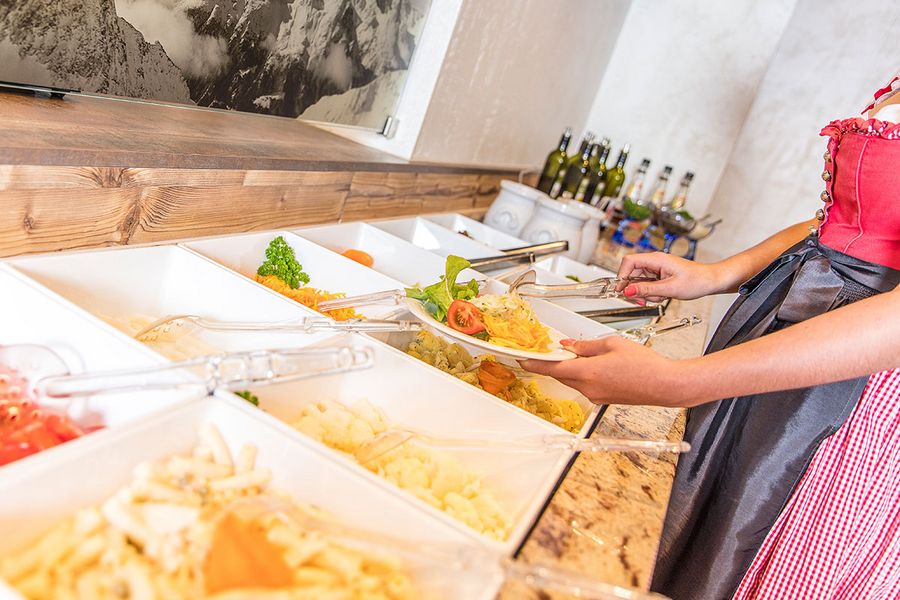 Our multi-course feel-good dining package for hotel guests:
Salads from the buffet
Starter and/or soup
Main course: Select from 3 main course options and a special children's option
Dessert of the day or two scoops of ice cream
Special occasions are there to be celebrated!
We love to help you arrange your family festivities or corporate celebration at one of our venues. On request, we would be delighted to compile a detailed offer featuring suitable cuisine and wine recommendations.
Huben
The pleasures of nature
Hotel Alpenblick lies at the heart of unspoilt natural alpine scenery. Enjoy the beauty of the Ötztal Alps. A holiday in Huben near Längenfeld promises all the pleasures nature has to offer.
Breakfast
A natural pleasure
The day starts with all kinds of culinary delights. Pick up tasty treasures at the buffet and indulge your taste buds with a wide variety of early-morning flavours and fragrances!