The hotel for adventurers and families
Family holidays in Austria
Fun and games, adventure and variety! An excellent range of entertaining activities for children makes the Ötztal Alps a veritable winter paradise for kids. No repeating the same long hike, no never-ending bike tours; no need to ski all day. In Ötztal an adventure holiday for the whole family guarantees lots of new experiences, every day.
Whether you're seeking nature or history, activities on water or on land, the alpine terrain guarantees people of all ages themagic of an unforgettable holiday with the whole family. Ötztal assures every family member has fun – and a wide range of activities: Numerous trip destinations, fun parks and playgrounds mean every day is packed with variety.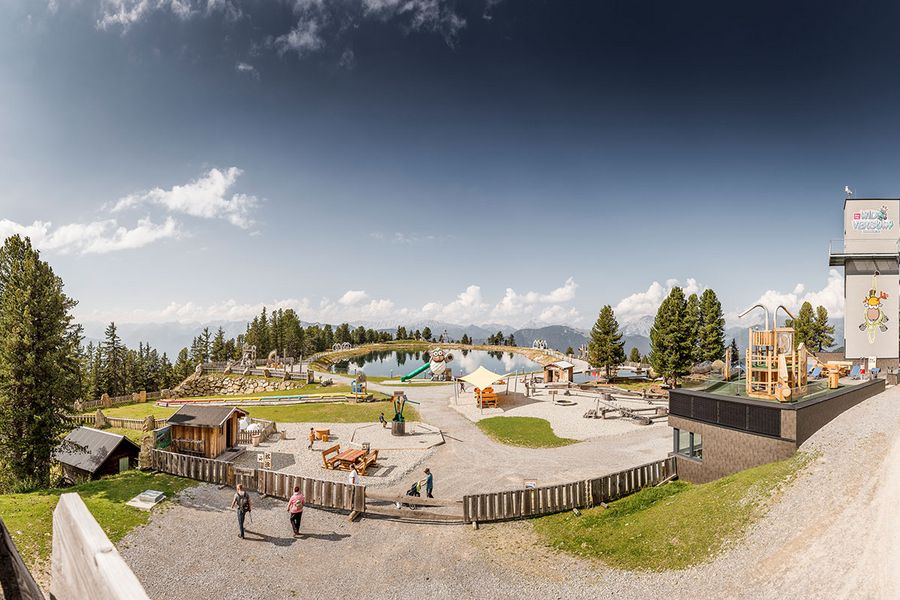 Trip destinations for kids of all ages:
Widiversum in Ötz.
Widiversum is an adventure land that provides the family's youngest explorers with a total of 17 creative education and play stations. Join the mascot Widi and solve the puzzle of the enigmatic crystal. Widiversum is located at the top station of the Acherkogelbahn lift, and can be reached from Oetz in just ten minutes.

Zauberwald enchanted forest in Sautens.
The path is suitable for prams and buggies, taking children and parents through the enchanted forest and around eleven lovingly designed stations that give curious junior explorers fascinating information about the nature in the valley of Ötztal. The tour takes approximately one hour and major highlights include the 'Three-Church-View' vantage platform and a large forest playground.

Open-air and local history museum in Längenfeld.
The local history museum in the Lehn area of Längenfeld showcases a broad band of history of everyday life and culture in Ötztal. The grounds of the museum feature old buildings, artisanal tools and everyday objects from many years ago.

Ötzi village in Umhausen.
The Ötzi village was opened as an archaeological open-air park around ten years after the spectacular discovery of the mummified corpse of 'Ötzi' on the slopes of Tisenjoch (Similaun). Reconstruction work in the open-air museum reveals the way people lived in the late Neolithic age.

Falconry park in Umhausen.
The Umhausen falconry and bird of prey park is next to the Ötzi village. The 5000 m² of park grounds enable visitors to observe eagles, vultures, kites and falcons; - all birds now rarely seen in the wild. This open-air arena welcomes up to 300 spectators and there are several demonstrations of falconry every day.
Fun parks, playgrounds and high-rope parks:
Kids' park in Ötz.
Children can climb, balance, slide and swing here to their hearts' content. The kids' park in Oetz occupies over 5000 square metres of land and has special play areas for younger and older children. The kids' park is buggy-friendly and can be visited FREE-OF-CHARGE! Meanwhile, adults can put their feet up in the café next door.

Ötztal outdoor course in Sautens.
This high-rope nature and forest park promises wonderful climbing experiences for visitors of all ages. There are six courses overall, divided into different difficulty rankings, some of which also cross the fizzing waters of the Ötztal Ache and rise to a height of 12 metres above the ground. The minimum age for all high-ropers here is 10 years.

Area 47 high-rope park.
The world of swinging tree trunks and wobbly platforms is not for people with a fear of heights. The route through the Area 47 high-rope park rises up to 27 metres above the ground! Visitors are well-harnessed, and confirm it's a thrilling climbing experience for daring adventurers aged 12 and up.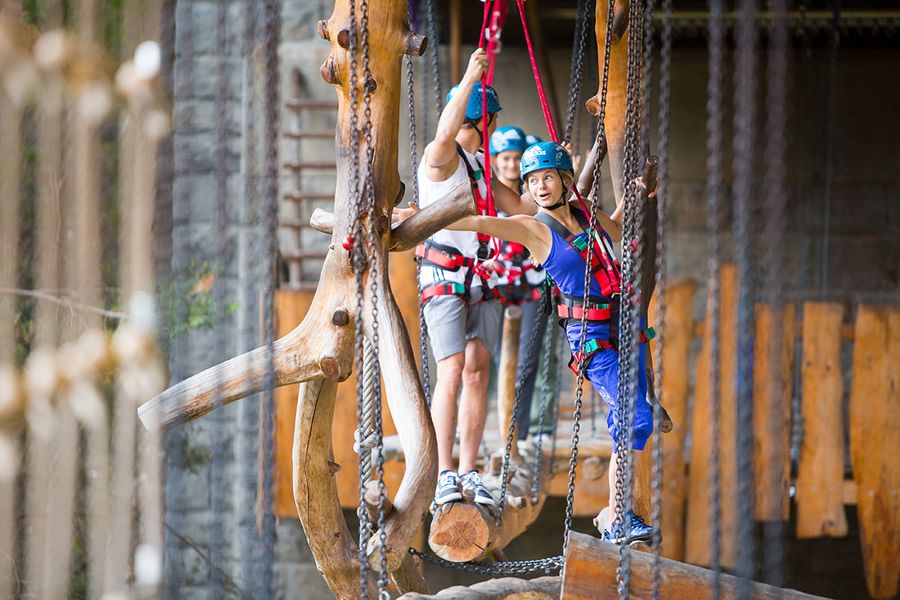 Summer
Hotel for summertime nature-lovers and alpine sports enthusiasts
Summer holidays, sunshine and ice-pops? Hotel Alpenblick in Ötztal guarantees a summer holiday tailored to your preferences.
Winter
Hotel for winter enthusiasts and snow-seekers
The thrill of the slopes, convivial mountain huts and the pleasures of the peaks? A winter holiday at Hotel Alpenblick in Ötztal leaves nothing to be desired.