A small and sophisticated hotel in Ötztal Valley
Peace and quiet at Hotel Alpenblick
There are many kinds of noise, but only one silence: The family-run Hotel Alpenblick in Huben near Längenfeld Ötztal offers precisely the peace and quiet you seek in your everyday life. Enjoy stress-free holidays surrounded by breath-taking alpine scenery, and relax for a few days between Längenfeld and Sölden.

Outdoor recreation is complemented by indoor relaxation. At the top floor of our 3-star superior hotel there's a spa area with a relaxation room offering sweeping views of the region. Hotel Alpenblick is a wonderful mountain retreat. It's a small and sophisticated hotel in Ötztal with just 24 rooms and suites – where our guests arrive as visitors and leave as friends.

The family makes a concerted effort to ensure every single guest is happy, healthy and well. Once you've been to Huben you'll never want to leave! We pamper guests, but also give them the peace and privacy to enjoy Hotel Alpenblick. It's your decision how you spend your vacation here. We guarantee unique experiences for all of our very special guests.

We're looking forward to seeing you!
The Wilhelm family
---
The Wilhelm family, including their two daughters Fabien and Nadine, work together to guarantee the wellbeing of their guests: Always attentive – always genuine.
Together the family creates the feel-good atmosphere it has generated from the very beginning: Hotel Alpenblick is your door to the peace and quiet of life in Ötztal.
This small and sophisticated hotel is your first choice for a holiday in Ötztal. The quiet location guarantees relaxation, while adventures can be enjoyed in the surrounding mountain terrain.
---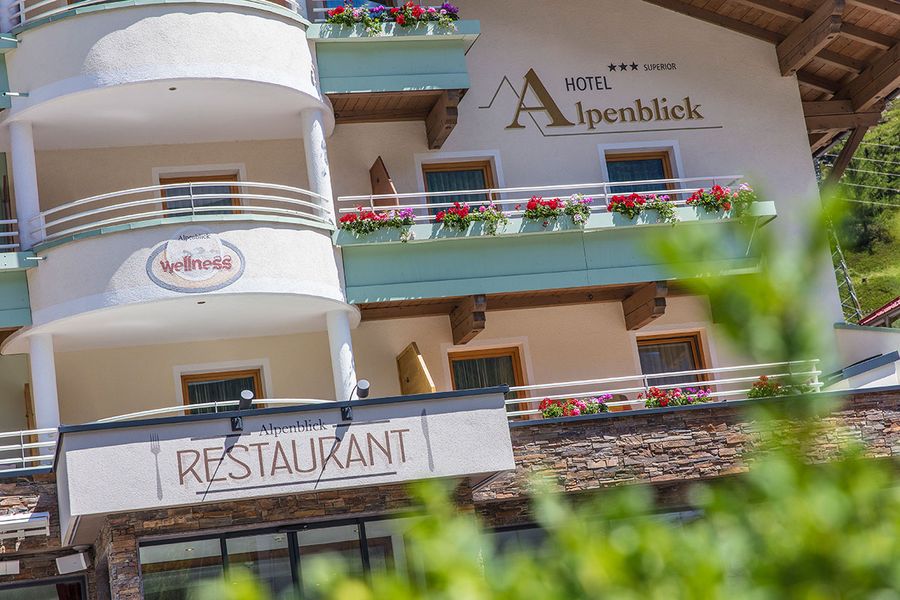 Unforgettable holidays
Hotel Alpenblick in Huben near Längenfeld is a very special hotel for a very special type of guest. Everyone who comes to Hotel Alpenblick in Ötztal will find what he or she seeks – peace and quiet, romance, adventure, sun, skiing thrills and powdery snow.

Hotel Alpenblick in Längenfeld is a place where there is time for everything – and everything comes in time. The hotel guarantees relaxation and recreation, and in the surrounding area there is plenty to experience and explore. Every second of every day, our guests can rearrange their plans for the next day of their vacation.
---
Hotel Alpenblick
Unique services
Unforgettable holiday experiences! Whether you're young or young-at-heart, every guest benefits from our special services and our one-of-a-kind hotel.
Hotel in Huben
Unique experiences
Every moment is unique. We celebrate diversity and ensure all our guests enjoy holiday experiences tailored to their own preferences. A comprehensive range of exciting activities can be enjoyed in and around the hotel.
Do you have further questions?
Give us a call, we will be happy to help you.