The hotel for summer activities and alpine sports
Summer holidays in Ötztal
What do you need for a thoroughly satisfying summer holiday in the mountains? Sporting thrills, culinary delights, top-quality services and great accommodation! These are all holiday experiences you will never forget, and can expect on a stay at Hotel Alpenblick in Huben: Special experiences for special guests.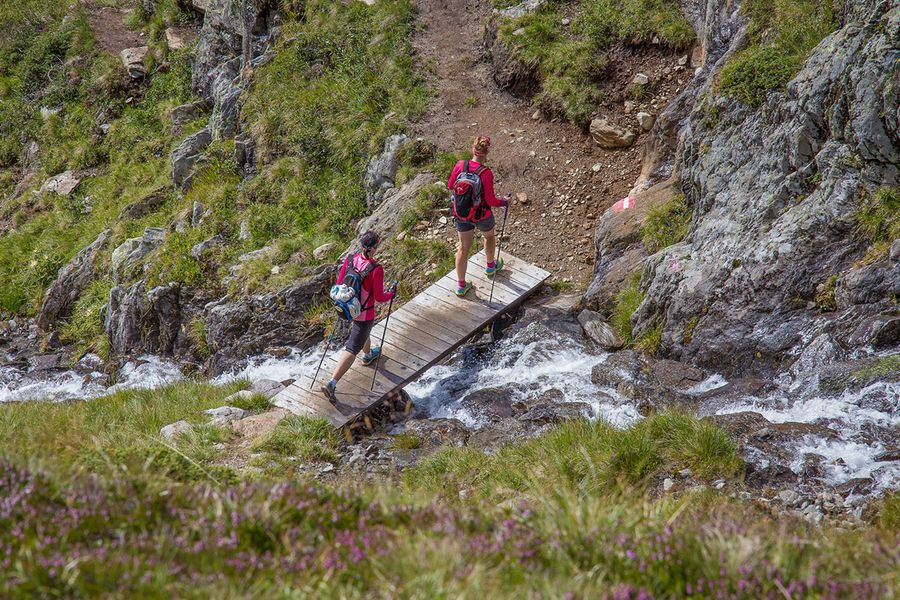 Hiking holidays in Ötztal
Wander across the distinctive terrain of Ötztal valley – over verdant alpine fields and dense forestry, up to the higher mountain pastures and on to the loftiest peaks in the region! Visitors can look forward to over 1600 kilometres of excellently-signposted hiking routes in the Ötztal Alps – from simple family trekking stints to several-day climbing tours, and all of them within close proximity of Hotel Alpenblick.

1600 kilometres of signposted hiking routes
Sunrise tours and post-sunset torchlit treks
Glacier tours in the high alpine areas of Ötztal
Experienced local mountain guides
Cable cars and trekkers' shuttle buses to take guests to starting points
600 different climbing/scrambling routes
7 secure via ferratas
19 climbing parks

Bike holidays in Ötztal
Discover an inimitable promised land for cycling enthusiasts. Pick up speed on the valley floor and explore the entire 52 kilometres of the Ötztal cycle path. Sail past fields and forests, and roar up to the top of some of the region's most stunning alpine passes. High roads like the Timmelsjoch and glacier road can be navigated the whole year, and mountain-biking enthusiasts simply love the Bike Republic trails in Sölden.

850 kilometres of designated mountain- bike and e-bike trails
Routes leading along forest roads and pathways, and local link roads
Bike Republic Sölden offers pump tracks, flow trails, single trails and downhill courses
52-kilometre Ötztal cycle path along the valley floor
Routes for racing bikes up Timmelsjoch, Kühtai and the glacier road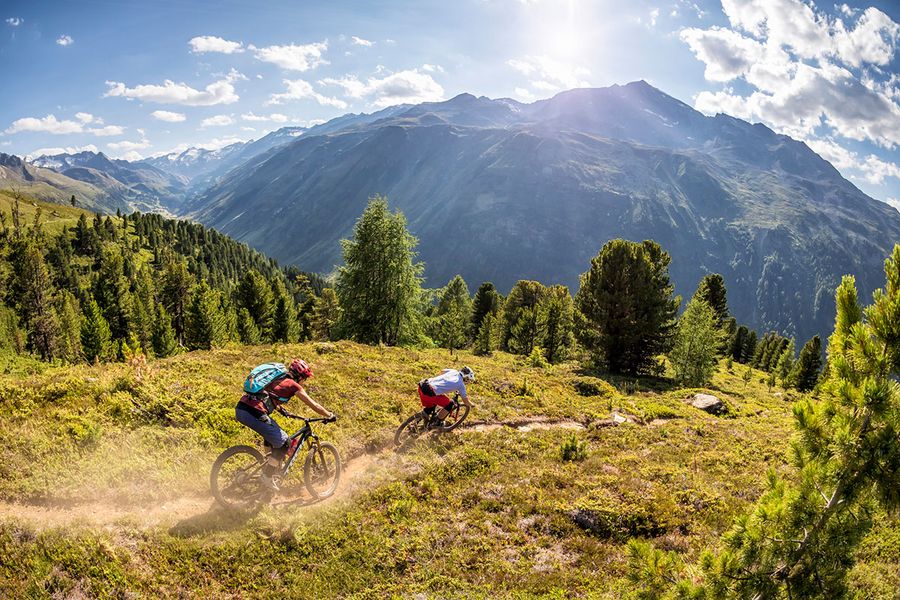 ---
All kinds of activities
A truly unique experience
In Huben - 0 minutes away:
Children's playground
Ötztal fun park
Football pitch
How to bake bread – from grains to loaves
In Umhausen - 15 minutes away:
Recreational bathing lake
Falconry park
Ötzi village
Stuibenfall waterfall
In Haiming - 30 minutes away:
In Längenfeld - 5 minutes away:
Tennis courts
Mini-golf course
Aqua Dome thermal baths & spa
Rafting and canyoning
Walkers' suspension bridge
Local history and open-air museum
Horse-drawn carriage rides
Naturparkhaus museum
In Oetz - 20 minutes away:
Piburger See lake
Adventure camps
Kids' park
Knappenweg quarrymen's path
Tower museum
Widiversum playground
In Sölden - 10 minutes away:
Indoor swimming pool & leisure arena
'007 Elements' – James Bond world on Gaislachkogl mountain
Glacier road
Bike Republic
In Sautens - 25 minutes away:
Ötztal outdoor course
Forchet geological knowledge trail
In Gurgl - 30 minutes away:
Timmelsjoch motorcycle museum
Via ferrata
---
Romantic holidays
The hotel for individualists and active guests
Just the two of you? Savour the intimacy of this special time together. Hotel Alpenblick is a very welcoming place, and ideal for couples.
Family holidays
The hotel for adventurers and families
Would you like to spend quality time with the whole family – with lots of variety and activities? Hotel Alpenblick is the perfect place for a holiday with the kids in the mountains.