Enjoyable. Stylish. Loving
NEW
since SUMMER 2022
Two generations, a philosophy and a wanting for more. More character. More comfort. And above all more enjoyment, service and hospitality. The family run Enjoyment Hotel Alpenblick in Huben in Ötztal is undergoing restructuring. Inside and out – the focus being on culinary enjoyment. Simple but exclusive in design and of a high 4 star standard. A small, stylish retreat for connoisseurs.

The new rooms and suites combine quiet elegance, bold modernity and practicality. Rooms that have been thoroughly restructured – entirely in the spirit of both generations of hosts. In addition, there will be even more moments of enjoyment and more room for first-class culinary delights. As always the service we provide our guest will remain of upmost importance. Just like the many little loving things that are in fact so important.
We are looking forward to welcoming you!
The Wilhelm family
"With the new Enjoyment Hotel Alpenblick we want to provide a place that offers more. A place full of pleasure. For sophisticated travellers. For athletes and connoisseurs..
Because now is the time to enjoy life."
6 days of heavenly indulgence
Even though our a la carte restaurant "Genusslokal" will be closed on Tuesdays from the 2023/2024 winter season, connoisseurs will not miss out. 6 days a week we spoil you with a 5-course menu including options. On our rest day you can of course discover the culinary highlights of the region. Our staff and family are happy to provide you with culinary tips in the area.
ENJOYABLE MOMENTS for 2
20m² | 2 people
Comfortable relaxing atmosphere
Large bedroom with double bed
Balcony with mountain view
Bathroom with shower
Spa bag with cosy bath robe and slippers
High quality cosmetic products
Hairdryer, safe, telephone
Flat screen cable TV
Free WIFI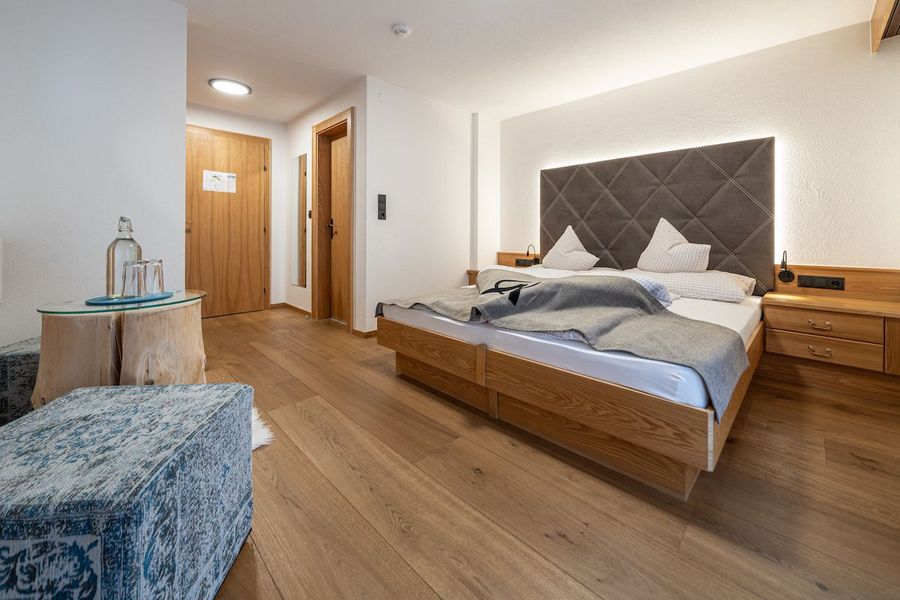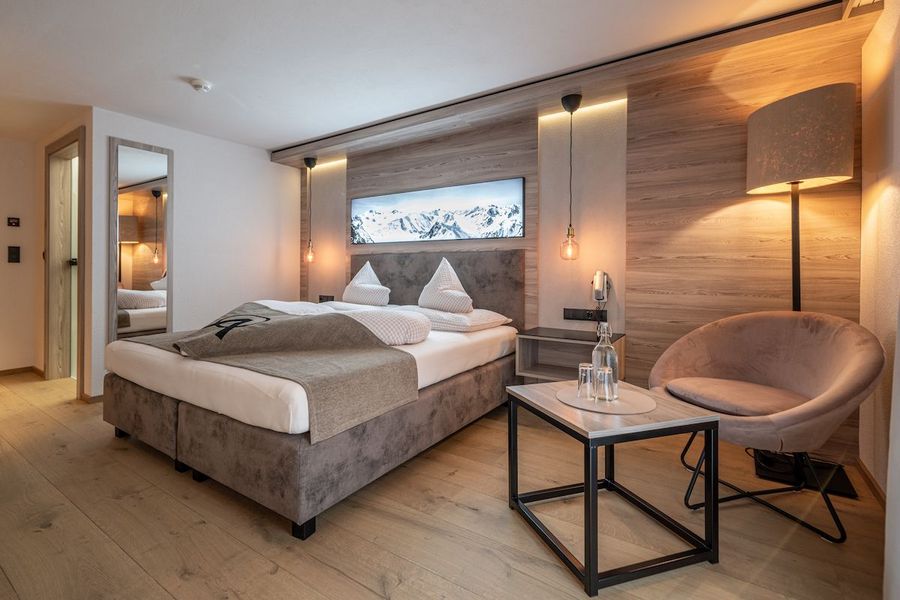 ENJOYABLE TIME-OUT for 2
25m² | 2 people
Tastefully decorated with natural oak flooring, cubic metal forms and harmonious accessories in earth tones.
Modern box-spring bed
Large rain shower
Comfortable seating corner
Balcony with mountain view
Spa bag with cosy bath robe and slippers
High quality cosmetic products
Hairdryer, safe, telephone
Flat screen cable TV
Free WIFI
ENJOYABLE TIME-OUT with extra bed
30m² | 1-3 people
Tastefully decorated with natural oak flooring, cubic metal forms and harmonious accessories in earth tones.
Modern box-spring bed
Extra bed for 3rd person
Large rain shower
Comfortable seating corner
Balcony with mountain view
Spa bag with cosy bath robe and slippers
High quality cosmetic products
Hairdryer, safe, telephone
Flat screen cable TV
Free WIFI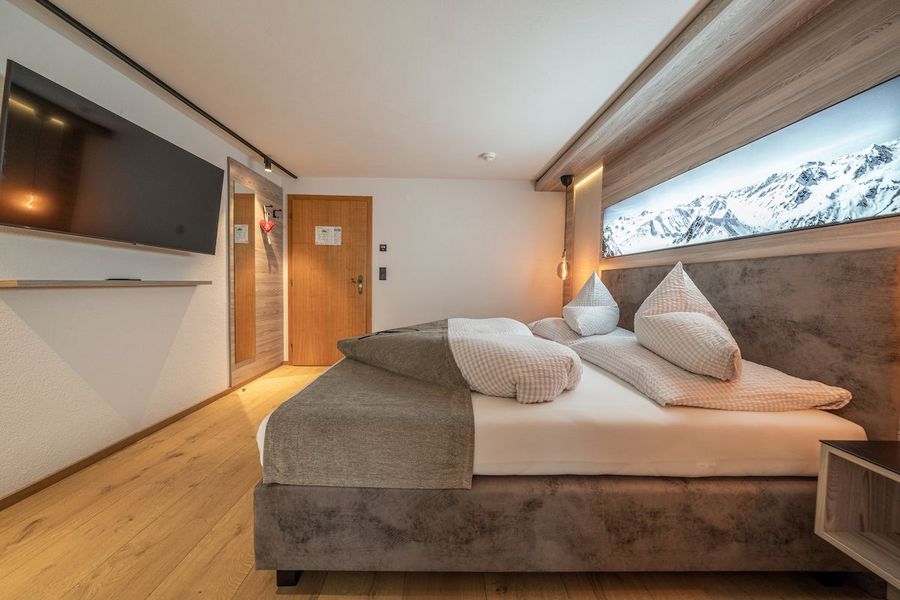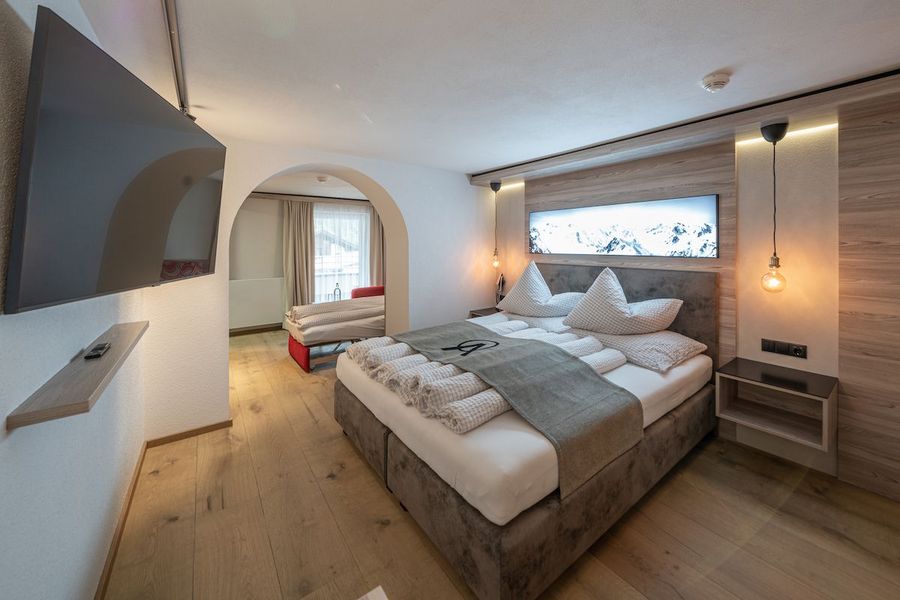 ENJOYABLE TIME-OUT for families
30m² | 3-4 people
Tastefully decorated with natural oak flooring, cubic metal forms and harmonious accessories in earth tones.
Modern box-spring bed
Pull out sofa bed for the 3rd and 4th people
Large rain shower
Comfortable seating corner
Balcony with mountain view
Spa bag with cosy bath robe and slippers
High quality cosmetic products
Hairdryer, safe, telephone
Flat screen cable TV
Free WIFI
ENJOYMENT SUITE for families
45m² | 2-4 people
Stylish suite with a double bed and alpine ambience
Modern bed system for 3rd and 4th person
Large rain shower
Comfortable seating corner
Balcony with mountain view
Spa bag with cosy bath robe and slippers
Tea and coffee station for early birds
High quality cosmetic products
Hairdryer, safe, telephone
Flat screen cable TV
Free WIFI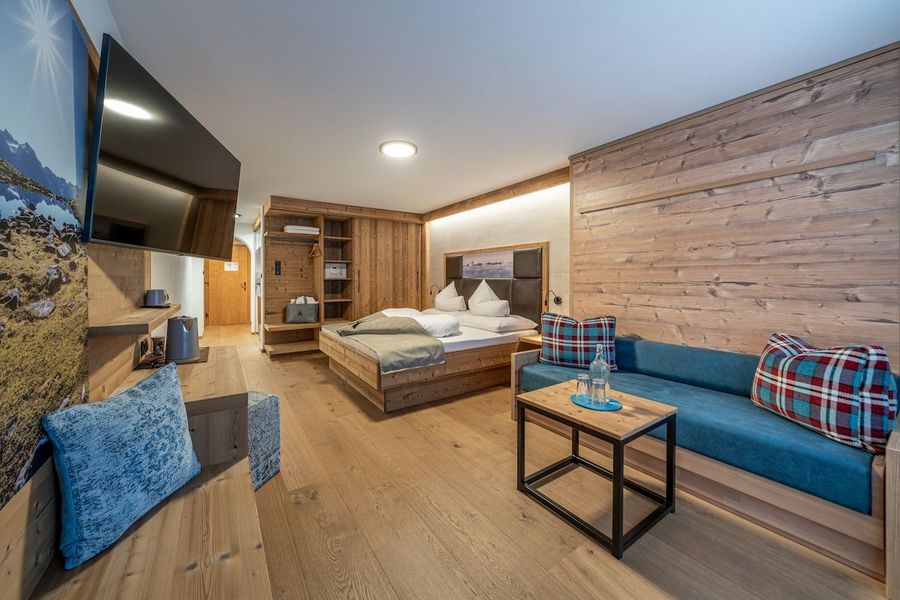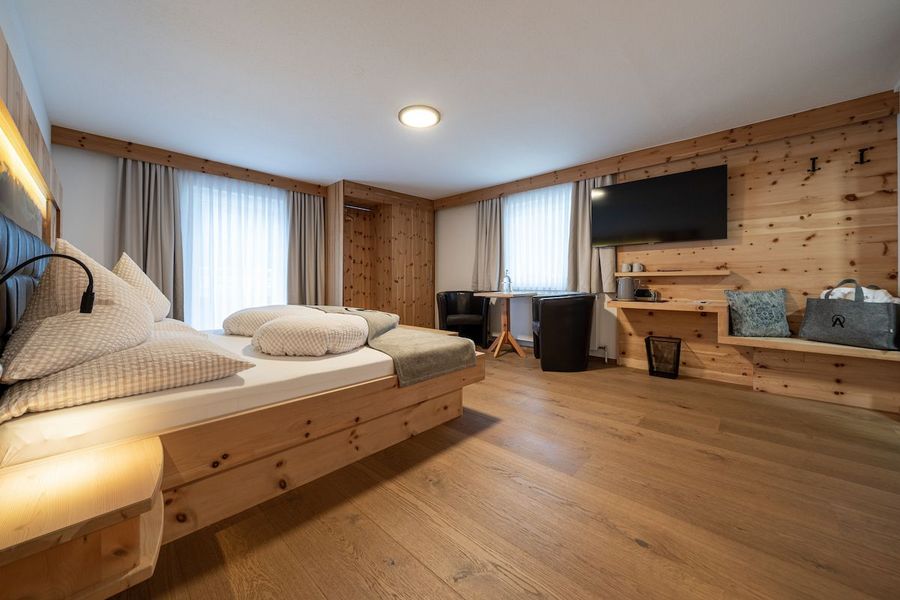 ENJOYMENT SUITE for 2
45m² | 2 people
Stylish suite with double bed and alpine ambience
Large rain shower
Comfortable seating corner
Balcony with mountain view
Spa bag with cosy bath robe and slippers
Tea and coffee station for early birds
High quality cosmetic products
Hairdryer, safe, telephone
Flat screen cable TV
Free WIFI
ENJOYABLE ROOM for single travellers
15m² | 1 person
Comfortable single room with pine wood
Comfortable pine bed (1,40m wide)
Modern rain shower
Small sitting corner
Spa bag with cosy bath robe and slippers
High quality cosmetic products
Hairdryer, safe, telephone
Flat screen cable TV
Free WIFI